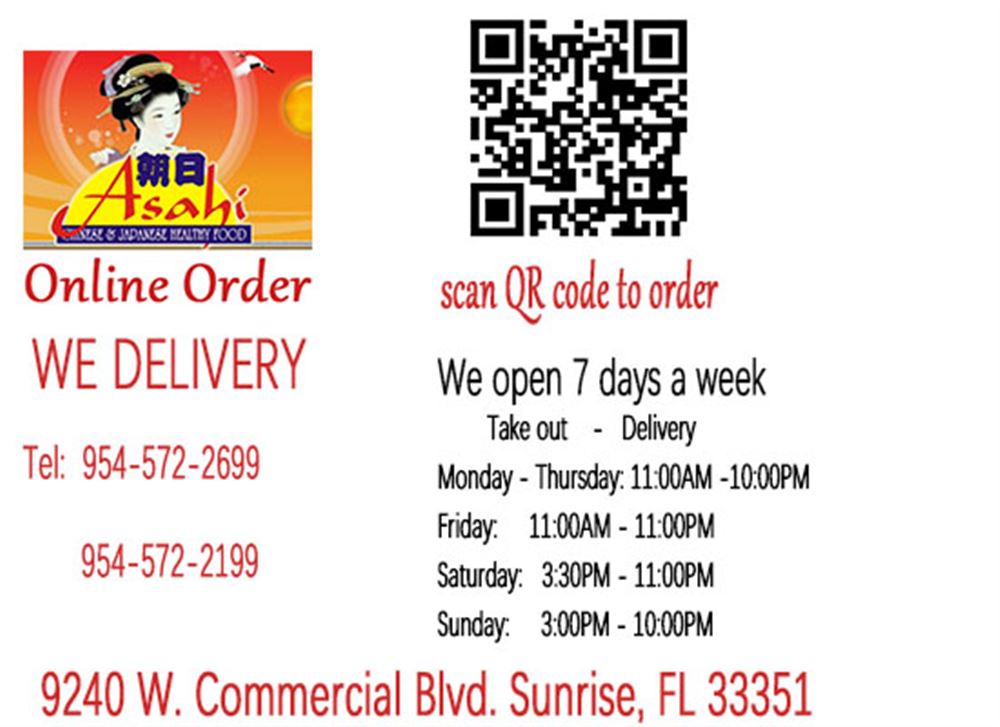 Asahi Restaurant was founded in 2001 at Sunrise, Florida.
Asahi Chinese Restaurant is a cozy local restaurant. The stunning 1,500 square foot restaurant beat its competitors for its delicious food and convenient and easily accessible location. The menu at Asahi Chinese Restaurant is really amazing.
Foods of all sizes, including Japanese cuisine, fruits, salads and desserts, are all available. The best-selling menu is sushi. Customers from all over the world are happy to seek high-quality food, especially sushi.
All the dishes on the Asahi Chinese & Japanese Restaurant menu are guaranteed fresh and delicious. The owner Mr. Cao is most proud of the homemade chicken soup. Chicken broth is made with carefully selected chicken bones and is used to season dishes in many restaurants.
Asahi Chinese Restaurant not only focuses on food quality, but also on customer service. "Satisfying customers is the foundation of my business," Cao concluded. In addition, Cao is currently lowering the sugar and salt content of the menu under the premise of considering the health of customers.
Asahi Chinese & Japanese Restaurant
9240 W COMMERCIAL BLVD, SUNRISE, FL 33351   Tel.: 954-572-2699
Copyright © Asahi Chinese & Japanese Restaurant All Rights Reserved - Designed by chinesemenu.com